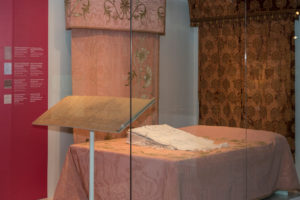 "Retalls d'ahir i d'avui"
(Samples from yesterday and today).
Open to the public free of charge: Friday and Sunday from 10 to 14h. And the Tuesday and Thursday from 10 to 14h and from 16 to 19h. (except August and Holidays).
With IMATEX, the CDMT's database of textile pieces, offers the public over 30,000 textile documents from all eras and cultures: fabrics, original designs, sample books, dress, and complements. Each entry comprises one or more images, along with information on materials, techniques, chronology and decoration. The objective of this database, (known as the textilteca) is to stimulate ideas and offer support to professionals in textile design and fashion, and to help researchers and all those interested in textile heritage to consult the CDMT's stocks.
The CDMT library specializes in all areas of textile and fashion and in the conservation and restoration of heritage items. It brings the textile world closer to the public and provides information for the staff of the centre and for outside users. Access to the library is free (you must make an appointment).