Since 1990, the CDMT has organized temporary exhibitions with the aim of bringing the textile world closer to the public at large. These displays have put the spotlight on different parts of the vast heritage we preserve and have enabled us to study and restore many beautiful pieces.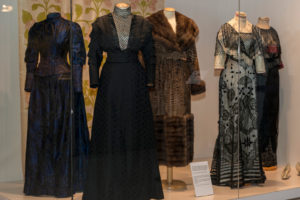 Each exhibition has helped us to learn more about textile culture and has allowed us to build up a loyal following. Most of the exhibitions have been produced by the centre itself or in conjunction with other Catalan museums, and we have also staged exhibitions from further afield.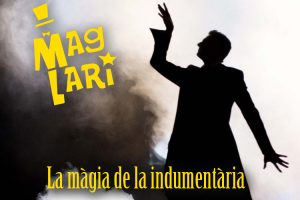 "Mag Lari, la màgia de la indumentària"
Date:
From 17th June to 31th Decembre 2018.
Venue:
Second floor, CDMT.
Organized by:
Centre de Documentació i Museu Tèxtil.
Additional information:
Press release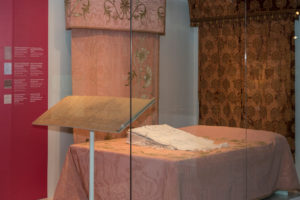 "RETALLS D'AHIR I D'AVUI"
(Samples from yesterday and today).
This display, organized in four parts (All around the world, Modernisme, Fashion, Technology and creativity) offers a taste of the wealth and range of the CDMT's stocks: on the one hand, the centre's "historical archive", comprising pieces from private collections, and on the other the acquisitions of the last twenty years which offer fascinating insights into the development of the Catalan industrial heritage, with special emphasis on the modernista period. Samples from yesterday and today also presents an outline of current trends, with samples provided by today's leading firms which show how the textile industry is constantly reinventing itself.
– Open to the public free of charge: Friday and Sunday from 10 to 14h. And the Tuesday and Thursday from 10 to 14h and from 16 to 19h. (except August and Holidays).
– For more information:
auladidactica@cdmt.cat
or 937 315 202.
– Access to the texts:
[link]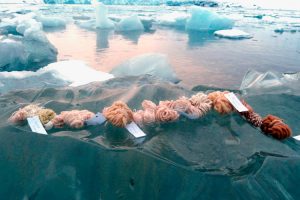 "Marques d'aigua" de Francesca Piñol
Date:
From 20th September to 16th Decembre 2018.
Venue:
"Espai Zero", CDMT.
Organized by:
Francesca Piñol.
Additional information:
Press release (pending)