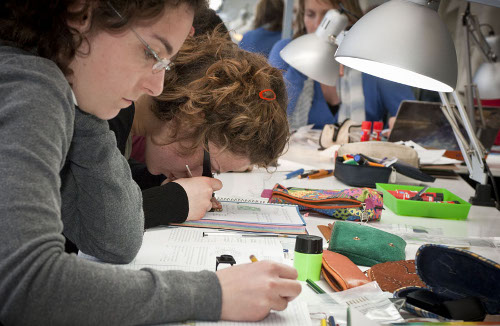 The CDMT offers a range of face-to-face and on-line courses and specialist workshops aimed at professionals in heritage and the textile sector. The programme benefits from the presence of experts in the field who apply their experience and knowledge to the training of future professionals.
The CDMT offers private individuals, firms and institutions the possibility to organize custom-made training courses to meet their particular needs.
You could register for our training courses via formacio@cdmt.cat / 937 315 202 or this form
---
Courses
Each year we offer short training courses, either introductions or courses exploring a specific area of textile production. These courses are designed for small groups of students and place special emphasis on practical aspects.
Calendar  2017
– March 16: "DOCUMENTACIÓ DELS OBJECTES TÈXTILS i DE LA INDUMENTÀRIA". Training by Sílvia Saladrigas and Mercè López. Organized: Veraicon and CDMT. [+info]
– 22 and 29 May: "CONSERVACIÓ PREVENTIVA DEL MATERIAL TÈXTIL". Training by Elisabet Cerdà. Organized: Oficina del Patrimoni Cultural de la Diputació de Barcelona and CDMT.
– 21 and 28 September: "HISTÒRIA I TÈCNIQUES DE LES PUNTES FETES A MÀ". Training by Neus Ribas (Museu de la Punta) and Rosa Mª Provencio (Associació Catalana de Puntaires). information and registration
– November 17: "I COL·LOQUI D'INVESTIGADORS EN TÈXTIL I MODA D'ESPANYA". [+info]
Inscripciones en: formacio@cdmt.cat
---
Officially recognized training courses
Practical training in textile restoration; courses bearing free choice credits for the third and fourth years at the Escola Superior de Conservació i Restauració de Béns Culturals de Catalunya (School of Conservation and Restoration of Cultural Property of Catalonia).
Training agreements
The CDMT has signed agreements with universities and institutions for the development of practicals at the Centre:
Escola Superior de Conservació i Restauració de Béns Culturals de Catalunya. Specialization in treatment of textile heritage for ESCRBCC graduates.
Escuela Superior de Conservación y Restauración de Bienes Culturales (Madrid). Programme of training practicals in the restoration of textile materials.
Universitat Autònoma de Barcelona. School of Philosophy and Arts. Departments of History and Art. Practicals for undergraduates studying History and History of Art
---