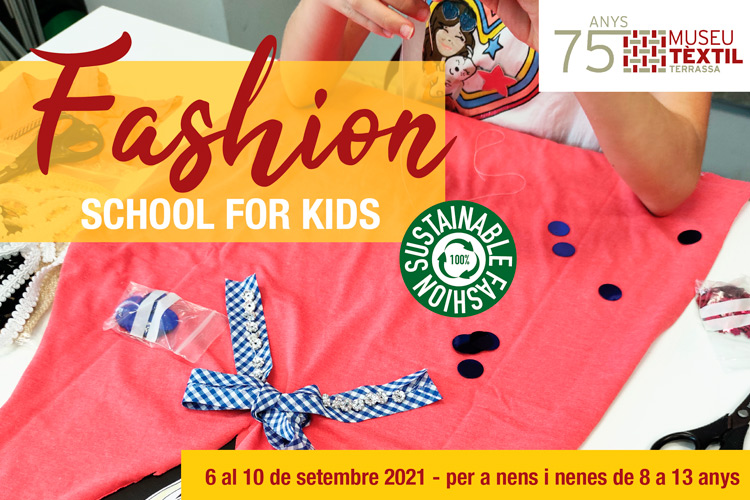 "Fashion School for kids" con Lucy Davis. Casal de septiembre
6 September / 10:00

-

10 September / 13:00

|

100€
Sorry, this entry is only available in Español and Català.
Actividad de pago: casal de moda para niños y niñas de entre 8 y 13 años. Con inscripción previa en el siguiente formulario (hasta el 1 de septiembre). Plazas limitadas.
Para explorar el mundo de la moda y los tejidos, este verano os proponemos un nuevo casal dirigido por la ilustradora de moda Lucy Victoria Davis (ArtiModa). Esta vez investigaremos sobre la moda sostenible, green fashion. Los niños y niñas descubrirán diseñadores de moda eco-friendly como Stella McCartney, Jean Paul Gaultier y Gabriela Hearst, entre otros. Se divertirán diseñando sus propios looks de moda, descubriendo las colecciones del museo, dibujando el cuerpo y experimentando con técnicas diversas (ilustración, "collage, pintura).
TOGETHER we will DESIGN, UP-CYCLE, SWAP and CREATE SUSTAINABLE FASHION!!
Calendario: del 6 al 10 de septiembre
Horario: de 10.00 a 13.00 horas
Lugar: Museu Tèxtil
El casal será bilingüe inglés- castellano/catalán ya que Lucy es inglesa aunque habla también las otras lenguas. Para más información, contactad con: auladidactica@cdmt.cat.
(La actividad se pasará a formato en línea en el caso de que cambien las normativas por la COVID)