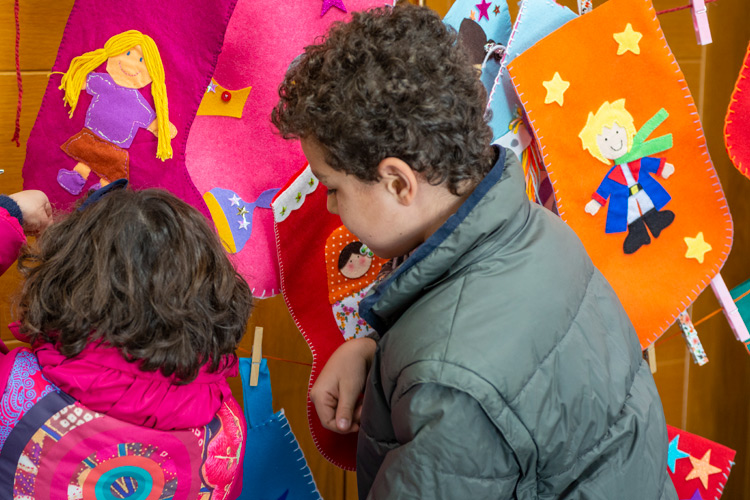 2.ª Maratón de calcetines de Navidad solidarios
1 December 2019 / 10:00

-

14:00

|

Free
Sorry, this entry is only available in Español and Català.
Actividad gratis para todos los públicos con inscripción previa hasta el jueves anterior en: inscripcions@cdmt.cat / 93 731 52 02. Plazas limitadas.
El proyecto "Calcetines de Navidad solidarios" nació en Oxford (Reino Unido) bajo la dirección de Sylvia Rueda de la ONG Stitches of kindness. La iniciativa moviliza a personas de la comunidad y se dirige especialmente a niños y niñas con sus familias. Por segundo año consecutivo, la ONG y el Museu Tèxtil unen esfuerzos para trasladar el proyecto a nuestra comunidad y así dar los calcetines que se confeccionen a los hospitales infantiles de la zona (Sant Joan de Déu, Vall d'Hebron, Hospital de Terrassa, etc…).
Durante esta 2.ª Maratón de calcetines solidarios, que tendrá lugar en las aulas del museo, aprenderéis a confeccionar un calcetín de fieltro y a decorarlo con diferentes técnicas y materiales. Habrá dos sesiones de taller, a las 10.00 y a las 12.00 horas. Los niños y niñas pueden hacer el calcetín con los padres a partir de 3 años.
Si no podéis venir pero queréis participar desde casa y traer el calcetín ya hecho, consultad aquí el patrón y el tutorial. Una vez hecho (en este caso los materiales van a cargo de uno mismo) lo podéis traer al propio museo o también entregarlo en los siguientes puntos de recogida hasta el 15 de diciembre:
-MERCERIA RAMBLA – Rambla d'Ègara, 174, 08221 Terrassa.
-LA BAIXADA – Carrer del Torrent, 82, 08225 Terrassa.
-MUSEU TÈXTIL – Carrer Salmerón, 25, 08222 Terrassa.
-TEIXITS OLGA – Encants de Sant Antoni, parades 7-9 08011 Barcelona.
-LA MAMAVACA – Rambla del Prat, 25, 08012 Barcelona.
-JEANINE PATCHWORK – Carrer Miquel Reverter, 6, 08960 Sant Just Desvern.