The Museu Tèxtil plans activities for families focusing on diverse aspects of textile and fashion based on experimentation and creative work. Children and their parents have specific culture and leisure needs which determine when an activity should be held, how long it should last, how it should work, what materials should be used, and so on.
The Museu Tèxtil approach to these activities combines fun and learning. Adults and children carry out creative tasks based on team work that enable parents to take part in their children's learning experience.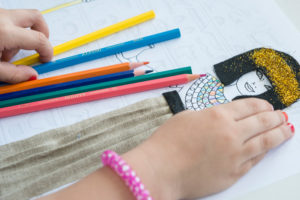 Sundays at the Museum is a series of activities linked to the temporary exhibitions on show throughout the year. The activities take a variety of forms: story readings, family tours, workshops, or a combination of all three.
Each activity lasts approximately one and a half hours and is led by a member of the Museu Tèxtil staff or by a specialist teacher or monitor who works with the Centre for specific events. All of the activities are designed to impart some knowledge of textiles, either from a theoretical perspective or through experimentation and hands-on work.
Check for scheduled activities in our Calendar.