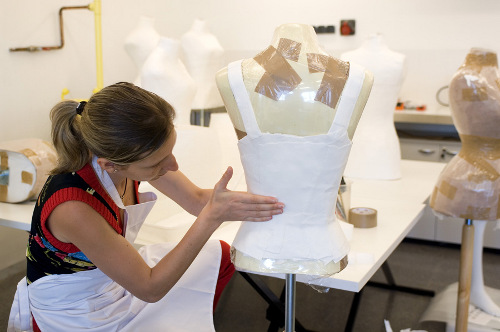 The Museu Tèxtil carries out studies for the display of individual pieces, sets and collections. It also designs and produces mannequins and supports applying the criteria of preventive conservation.
| Creation of supports for exhibits: displayed flat, rolled, semi-rolled, or hung vertically. | | |
| --- | --- | --- |
| Creation of various types of supports for clothing and other textile pieces; crinolines and bustles to add volume; recreations of historical costumes; clothing and accessories to help to explain the message of the pieces. | | |
| --- | --- | --- |
| Creation of individual supports for complements of all kinds: gloves, shoes, hats, and so on. | | |
| --- | --- | --- |
The Museu Tèxtil has sixty models for reproducing historical mannequins, dated between 1650 and 2000. Thanks to this collection we can faithfully recreate the form of a standard model for a specific historical era.

The Bodytheque was created by a cooperation agreement with the researcher Carmen Lucini. It welcomes requests from other museums or institutions.